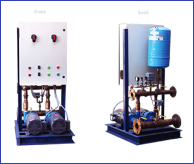 Domestic booster pumps are designed to increase water pressure and flow of water from a variety of sources, such as wells, tanks, and municipal water supplies. Booster pumps can be installed as a single unit, or as a multistage system with multiple pumps for a more significant boost to the pressure and flow rate, ensuring that a home or building is equipped with an adequate and consistent water supply.
Low water pressure is a common issue resulting in a range of problems, such as slow filling of water fixtures, weak water flow, and inadequate water supply for appliances. A domestic booster pump is typically installed in-line with the water supply and is designed to take in water and increase the pressure before sending it through the pipes to the desired location.
In commercial settings such as high-rise buildings and hotels, a water booster pump can be particularly useful in ensuring that water is available on upper floors and in locations that are far away from the main water supply. By increasing the water pressure and flow rate, booster pumps can also help to reduce the wait time for hot water and decrease the amount of time it takes for fixtures to fill.
The term "domestic" refers to booster pumps that are designed for use in residential homes and small-scale applications. These pumps are typically smaller in size and capacity than commercial or industrial pumps, and are designed to be more cost-effective and easier to install than larger water booster pump systems.
Commercial water booster pumps, for example, are designed for use in larger buildings such as hotels, hospitals, and office buildings. They are typically larger and more powerful than domestic booster pumps, and are designed to handle the higher demand for water in these settings.