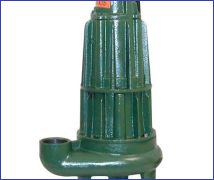 Submersible sewage pumps are designed to transfer wastewater, sewage, and other solid materials from one location to another. These pumps are commonly used in residential, commercial, and industrial applications where submersible sewage pump systems are needed to move wastewater and sewage to a treatment facility.
Because they are fully submerged in the liquid being pumped, submersible pumps have a motor that is completely enclosed and sealed, preventing any liquid or gas from entering or exiting the motor. This design helps to prevent electrical short circuits and other problems that can occur when the motor is exposed to moisture or other contaminants. The sewage pump itself is made of durable materials such as cast iron, stainless steel, or thermoplastic, to resist corrosion and wear.
Submersible sewage pump systems have several unique features that make them a reliable and efficient choice for the transfer of wastewater and sewage. Firstly, sewage pumps include automatic shut-off switches that turn off the pump automatically when the liquid level drops to a certain point, preventing the pump from running dry.
Additionally, float switches can be used to turn the pump on and off based on the liquid level in the pit or basin. The pumps also have heavy-duty impellers that are designed to move solid materials such as sewage, trash, and other debris without clogging or damaging the pump. Finally, sewage pumps are typically made from corrosion-resistant materials that can resist corrosion and wear, ensuring a long service life.