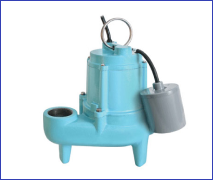 However, there are several differences between a submersible sewage pump and an effluent sewage pump due to the type of waste they are designed to handle. While a submersible sewage pump is designed to handle larger solids and debris, such as raw sewage, wastewater, and other types of waste that contain higher levels of solids and organic matter, an effluent sewage pump is designed to handle smaller solids and clear liquids, such as gray water and septic tank effluent.
The design of the two submersible pumps can also differ slightly, with submersible sewage pumps typically having a more heavy-duty construction and larger impellers (rotating blades) to handle the larger solids, while effluent pumps may have smaller impellers and a more compact design. Additionally, submersible sewage pumps may have automatic shut-off switches and float switches to prevent damage from dry running, while effluent pumps may not require these features due to the nature of the waste they handle.
Like any mechanical system, effluent pump systems can experience problems and failures over time, which can result in costly repairs and downtime. Some of the common problems that can occur with effluent pump systems include clogging, electrical issues, and pump failure.
Clogging can occur when debris or solids get trapped in the pump or piping, causing the flow of liquid to slow or stop altogether. This can be caused by improper installation, improper sizing of the submersible pump, or the presence of foreign objects in the liquid being pumped. Electrical issues can also occur, such as short circuits or problems with the motor or other components of the pump. Pump failure can occur due to mechanical wear and tear, age, or other factors.
To prevent these issues and ensure optimal performance, regular submersible pump maintenance and service are essential. This can include regular inspections, cleaning of the pump and piping, and replacement of worn or damaged parts. By keeping the effluent pump system well-maintained, you can reduce the risk of clogging, electrical issues, and pump failure, which can save you from having to buy replacement submersible sewage pump parts more often. When properly performed, regular submersible sewage pump maintenance can help to extend the lifespan of the effluent pump and ensure that it operates efficiently and reliably over the long term.