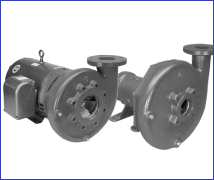 An HVAC circulating pump is a type of centrifugal pump that is designed for closed-loop systems, such as a heating, ventilation, and air conditioning (HVAC) systems, to circulate hot or cold water through the system in order to maintain a comfortable indoor temperature.
One of the unique features of HVAC circulating pumps is their ability to maintain a consistent flow rate, regardless of the changes in pressure or temperature in the system. This not only ensures a more comfortable indoor environment but can also help reduce energy consumption and save on utility costs.
Another unique feature of HVAC circulating pumps is their compact design which allows them to be installed in tight spaces without sacrificing performance. Close-coupled pumps are particularly well-suited for HVAC applications, as they have a short shaft and require less space for installation.