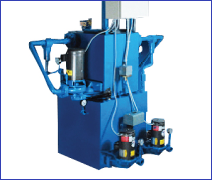 Commercial vacuum pumps are an essential part of a control system for commercial buildings, particularly for those with central heating, ventilation, and air conditioning (HVAC) systems.
A vacuum pump system works to maintain the desired level of air pressure and air quality within an HVAC system, ensuring that air is properly circulated throughout the building. The vacuum pump also helps to maintain a consistent level of pressure within the HVAC system, which is important for ensuring that the system operates efficiently and effectively.
In a commercial building, the HVAC system typically consists of a series of ducts and vents that distribute air throughout the building. These ducts and vents can become clogged or blocked over time, reducing the effectiveness of the system. Commercial vacuum pumps can help to clear these blockages and restore proper air flow, improving the overall performance of the HVAC system.
In addition to improving the performance of the HVAC system, commercial vacuum pumps can also help to reduce energy costs. By ensuring that the HVAC system operates efficiently, the pumps can help to reduce the amount of energy required to maintain a comfortable temperature within the building. This can result in significant cost savings over time, particularly for large commercial buildings with high heating and cooling requirements.
By improving air flow, reducing blockages, and optimizing pressure levels, these pumps help to create a comfortable and healthy environment for building occupants, while also providing cost savings for building owners and managers.
While both suction pumps and vacuum pumps can be used to remove air and other gases from an HVAC system, vacuum pumps are typically better suited for creating and maintaining a vacuum in the system, particularly for larger and more complex HVAC systems. This is because vacuum pumps are more powerful and can handle a wider range of pressure levels as well as higher flow rates and larger volumes of gases.
Common problems with vacuum pumps used in HVAC systems include leaks, clogs, and mechanical failures. These issues can be addressed through regular maintenance of vacuum pumps, as well as prompt repair or replacement of damaged components of the vacuum pump system. If you are experiencing poor air flow, inconsistent temperature control, or other issues with your HVAC system, it may be necessary to have a licensed HVAC technician help to diagnose the problem and determine if vacuum pump service is needed.