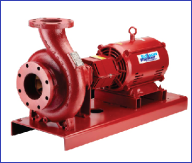 An end suction pump is a type of centrifugal pump that is commonly used in commercial and industrial settings to move liquids from one location to another. End suction centrifugal pumps are also known for their high efficiency, low noise levels, and smooth operation.
End suction pumps are used in various applications such as water supply, irrigation, heating and cooling systems, industrial and chemical processing, and wastewater treatment. These pumps are designed to transfer water from a water source to a storage tank or irrigation system, circulate hot or cold water in heating and cooling systems, transport corrosive liquids in industrial and chemical processing, and move wastewater in the treatment process.
A centrifugal end suction pump is easy to install and maintain due to its simple design, which has a flat and parallel orientation for both the suction side (where the liquid comes into the pump) and discharge side (where the liquid comes out of the pump). This feature allows the end suction centrifugal pump to be placed on a flat surface without worrying about the nozzle orientation. The design also makes maintenance easy since technicians can easily access both sides of the pump to check for problems or make repairs.
To ensure that the end suction pump provides optimal performance, it is important to conduct regular end suction pump maintenance and repairs.