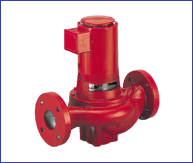 A close-coupled in-line mounted pump, also known as a close-coupled centrifugal inline mounted pump, is a compact and efficient pump used in commercial settings to handle a wide range of fluids, including water, chemicals, and other liquids. This type of mounted pump is ideal for applications where space is limited, and where the pump needs to be installed directly in the piping system. This is because the pump's compact design enables it to be mounted in-line (within the piping system) without the need for a separate mounting base or support structure.
These pumps are space-saving, energy-efficient, and cost-effective, which can help lower operating costs and reduce energy consumption. Additionally, these pumps are easy to maintain, with simple access to key components for inspection and servicing, making them a popular option in commercial and industrial settings where downtime must be minimized.
A close-coupled in-line mounted pump works very efficiently in commercial buildings such as hotels or office buildings, where there is a need to circulate water through the building's HVAC system. In this case, a close-coupled in-line mounted pump can be used to circulate the water through the system, ensuring that the temperature is properly regulated throughout the building.
Another scenario where a close-coupled in-line mounted pump may be necessary is in a chemical processing plant, where the pump can be used to transfer chemicals from one process to another, or to circulate chemicals through a reactor or other vessel.