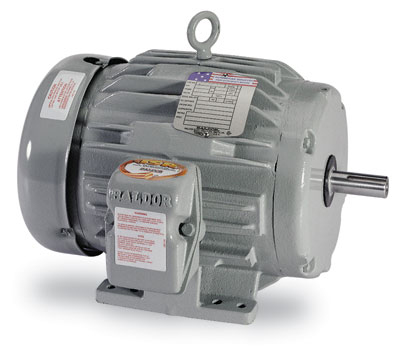 A severe duty motor is a specialized type of motor designed to handle challenging environments. These motors are used in various industrial applications that require protection from humidity, corrosion, heat, and other mechanical stress. Whether it's powering pumps, compressors, fans, or other equipment, severe duty motors are well-equipped to handle the task.
Why Severe Duty Motors are Perfect for Harsh Conditions
Severe duty motors are designed to provide quality performance and outlast their Totally Enclosed Fan Cooled (TEFC) counterparts in harsh conditions. These devices are rugged and well-suited to harsh environments. They come with many features to protect against contamination, moisture, and vibrations. The fully enclosed cast iron construction and insulation systems ensure that these motors can handle exposure to ash, sawdust, and other airborne particles. Unlike standard models that typically come with a 1-year warranty, severe duty motor warranties usually last for three years or longer.
Advantages and Features of Severe Duty Motors
Severe duty motors feature well-designed components, such as an enclosed frame, end shields, and caps to protect the inner mechanics from contamination. Extensive cast bracing in the feet and frame shield the device from mechanical disturbances. To assist with cooling, severe duty motors feature an external fan and fan cover. Finally, the cast iron construction and gasketed main terminal box protect the device from harsh conditions.
In comparison to standard TEFC motors, severe duty motors have many advantages in terms of reliability and performance. They are designed for advanced uses in challenging environments. Standard motors are unable to withstand the airborne contamination and mechanical stress that severe duty motors handle with ease. In addition, severe duty motors provide high efficiency at a cost-efficient price. This improved performance also helps reduce energy consumption.
Corrosive, Humidity, Salt, and Heat Resistances
Severe duty motors can function in humid, corrosive, salty, and high heat environments. They operate between -25°C and 40°C. Unlike Open Drip Proof (ODP) motors, severe duty models are constructed to prevent all contamination. The frame prevents air exchange between the outdoor environment and internal mechanics. In addition, the improved seals limit intake of dust and water. Severe duty motors include V-rings instead of O-rings for both the drive and non-drive ends of the motor for increased protection. Finally, most severe duty pumps are coated in high-quality paint for increased corrosion resistance.
Common Applications and Industries
Severe duty motors are ideal for constant speed or inverter duty applications. They outperform standard TEFC motors in harsh environments. Compressors, pumps, fans, conveyors, gear reducers, blowers, material handling equipment, and machine tools are just some applications where severe duty motors are utilized. Some industries that use severe duty motors include: